In this post, you will learn about the SQRT Function in Excel, how to use it in your excel spreadsheets.
SQRT Function in Excel
The SQRT function returns the square root of the given positive number. The function returns an error when negative numbers are used.
Syntax
The syntax has one argument
number – This argument holds the number which you want to find the square root for
How does the SQRT Function work in Excel?
To start, enter the numbers in the excel sheet. In a new cell enter the syntax and highlight the data to include it in the function.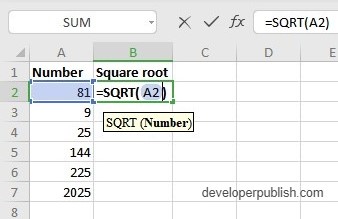 Press enter to display the answer and use the fill handle to apply the function to the rest of the data.