In this post, you will learn about a simple Excel function called ROMAN Function and how to use it in your excel spreadsheets.
What are the Arabic Numbers and the Roman Numbers?
The Arabic numbers are the ten digits 0,1,2,3,4,5,6,7,8 and 9
Together they form the present Decimal system
Roman numbers are certain symbols used in the system of numerical notation.
They are based on the ancient Roman system
Syntax
The syntax has two arguments
number – This holds the number to be converted
form – This holds what type of Roman number you want (optional)
How to use ROMAN Function in Excel?
The function returns the respective Roman numerals for the given numbers.
This ROMAN Function is the opposite of the ARABIC Function.
The form argument specifies what type of Roman number that you want, that is classic, simplified, etc.
To start, enter the numbers in the excel sheet, and in a new cell enter the syntax and highlight the cell to include it in the syntax.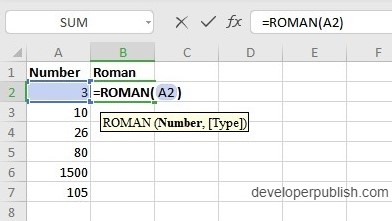 Press enter to display the answer and use the fill handle to apply the function to the rest of the data.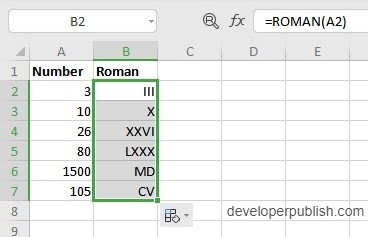 The function does not accept negative numbers and returns #NUM! as an error.
When non – numeric values are used in the syntax it returns the #VALUE! error.