This post explains in simple steps on How to remove line breaks in Microsoft Excel. Line breaks usually occur when you copy and paste something to the worksheet.
How to remove carriage returns (line breaks) from cells in Excel?
So to remove it follow the below steps.
Go to the Replace option in Find & Replace under the Editings group in the Home menu.
Tip: Use Ctrl+F to open the Find and Replace dialog box.
Find and Replace dialog box opens up.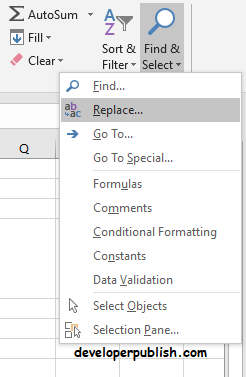 In the Find what field enter Ctrl+J . In the Replace with field enter a comma followed by space.
Now click on Replace All.
Now you can view the changes you made. This way you can remove line breaks in Excel.