In this post, you'll learn how to quickly find the nearest petrol or gas station in Google Maps on your browser, android or iOS smart phone.
Note that the the term Gas, Petrol, Diesel is used interchangeably here.
If you are a smart phone user or have a device with a browser, then you might be lucky that it is easier to find the nearest gas station when your car or any vehicle needs a gas or a petrol. Yes, Google Maps on these devices makes it easier to find the nearest gas station even in the area that is new for you.
Most of the People use Google Maps to find the route or direction to drive to a destination. But the Google Maps has more feature that are jus beyond just directions.
How to Find the Nearest Petrol or Gas Station on Google Maps?
Open Google Maps on your Browser by visiting maps.google.com
In the Search Google Maps text box, enter petrol and press the enter key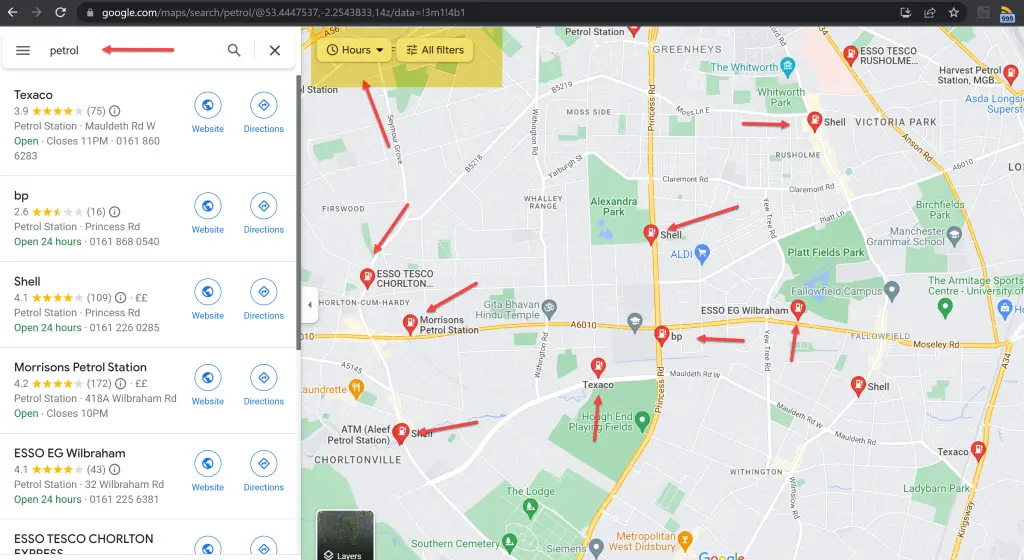 You should immediately start seeing the list of gas stations or petrol stations near me.
In the top, you'll also see additional filters that you can use to find a specific petrol station. For example, you want to find the gas station that is currently open, you can click the Hours drop down list and select that.
The same feature is available on the Google Maps in your iPhone and Android phone too.
You can either search for petrol or gas as shown above or when the app is open, you will see the Petrol as option under the Services Section when you click on the More… button.
If you want to explore more about the petrol station or the gas station, you can simply tap on the red balloon on the maps to display more information. This will display more information about the gas station like Business Hours, Address, Phone Number, Reviews, Photos etc. You can also Save the Location or even use the share option to share the petrol station details to a friend.