In this post, you will be learning about the Google 3D animals feature in Google Search and how to access them from your smartphone.
What are Google 3D Animals?.
Google introduced its 3D Animals feature last year at 2019 I/O event. It is a 3D feature where people can watch augmented reality (AR) animal right at their home.
At first Google 3D animals feature supported only a few animals. Since its launch, Google has added a long list of animals, insects and more amazingly some dinosaurs to its 3D feature.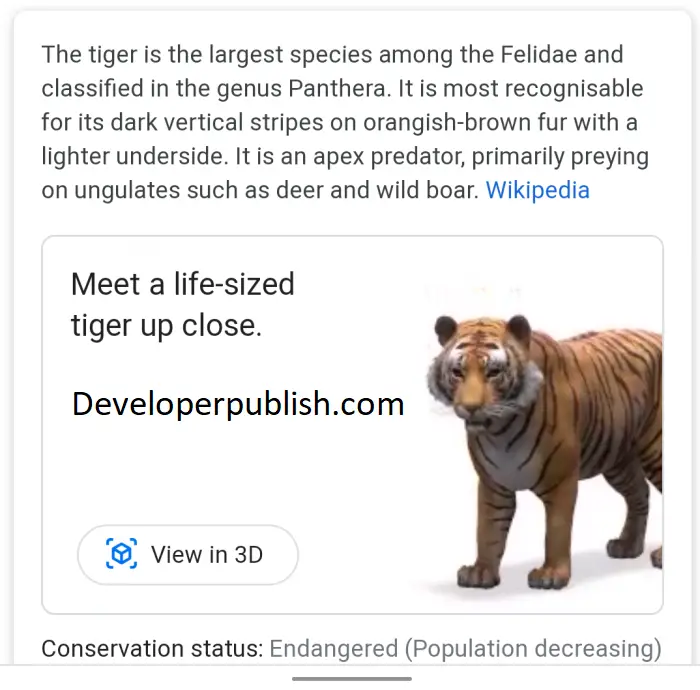 How to Search and Find 3D Animals in Google?
Open Chrome on your android mobile phone. (This feature is not supported on Laptops and PCs.)
Search the name of the animal on Google.
The result for the lion will appear. Scroll down and click on the "View in 3D" option.
You need to move the screen from one end of the room to the other. Keep moving your phone for around a minute and you can see a light shadow of Lion appearing on the screen.
You can now see a 3D lion on your smartphone. And, you can also zoom in and out the lion in whichever way possible. And you can also move the lion using your finger around your room.
The lion will disappear from the frame after a minute.
How to Access View in Space?
To access this feature and to function it efficiently you need to allow all the permissions for the google app.
Open the 'Settings' app on your smartphone
Click on 'Apps & Notifications'
Open the 'Google' app
Click on 'Permissions'
Switch on all the permissions to effectively use 'Google View in 3D feature'
List of all 3D Animals in Google Search
At first, google supported only a few animals on this feature. But seeing its rapid growth, Google has extended its support to a larger extent. Hers is the list of animals and insects available on this feature.
Animals
Alligator, Angler fish, Ball python, Brown bear ,Cat ,Black Cat, Persian Cat, Ragdoll, Shorthair Cat, Sphynx Cat, Kitten, Coyote, Cheetah, Deer, Donkey, Duck, Eagle, Easter Bunny ,Emperor penguin, Echidna,  Emu, Fennec Fox, Giraffe, Giant panda, Goat, Hamster ,Hedgehog, Hippo, Horse, Kangaroo, Koala, Kookaburra, Leopard, Lion, Macaw, Milk Cow, Octopus, Ox, Pig, Platypus, Racoon, Red Panda, Shark, Shetland pony, Snake, Tiger, Turtle, Quokka, Wombat, Wolf, Zebra.
And dogs like,
Beagle, Border Collie, Bulldog, Cane Corso, Chihuahua,  Dachshund, Doberman, German Shepard, Hot dog, Pitbull, Pomeranian, Labrador, Retriever, Pug, Rottweiler, Siberian Husky, Welsh Corgi.
Google also added dinosaurs in a recent update.
Tyrannosaurus Rex, Velociraptor, Triceratops, Spinosaurus, Stegosaurus, Brachiosaurus, Ankylosaurus, Dilophosaurus, Pteranodon, Parasaurolophus.
These are the available prehistoric creatures in Google 3D animals.
Beyond dinosaurs, Google also added a collection of insects to this collection. The full list of the available insects is given below:
Rhinoceros Beetle, Hercules Beetle, Atlas Beetle, Stag Beetle, Miyama Stag  eetle, Shining Ball Scarab Beetle, Jewel Beetle, Robust Cicada ,Brown Cicada, Periodical Cicada, Walker's Cicada, Evening Cicada ,Mantis, Grasshopper, Giant Stag, Ladybug ,Firefly, Rosailia Batesi, Swallowtail, Butterfly, Morpho  Butterfly, Atlas Moth ,Hornet.