In this post, you will be learning about Guides in Microsoft PowerPoint. Also, you will know how to add guides in PowerPoint.
Guides in Microsoft PowerPoint provide you with Horizontal and Vertical Guides to align the objects uniformly.
How to Add Guides to PowerPoint?
To add the guides in your PowerPoint,
Go to the View tab in the PowerPoint Ribbon.
Click on the Guides checkbox from the show group.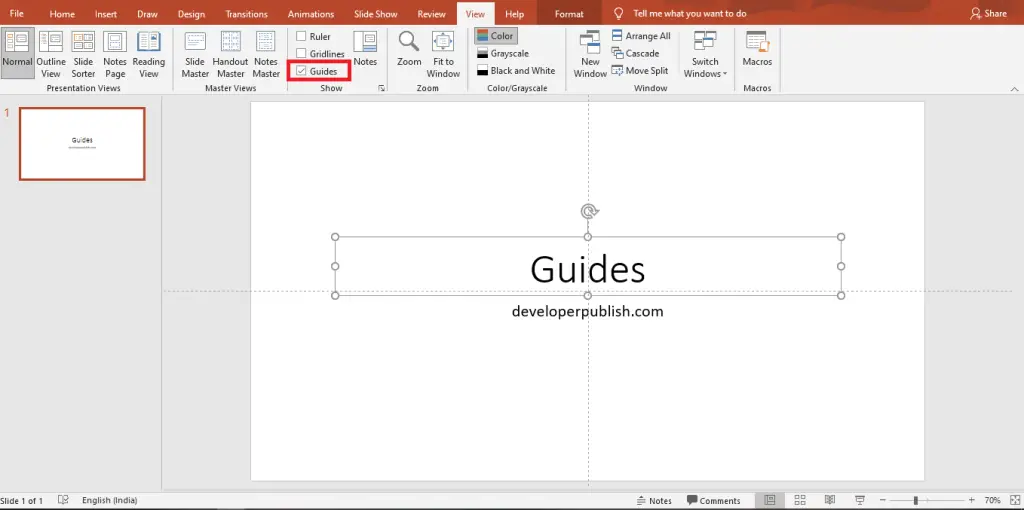 Now, you can see the added Guides in your Powerpoint Presentation.
You can also remove the Guides from the PowerPoint by unchecking the Guides checkbox from the Show group.
How to Add more than one Guides in PowerPoint?
It is possible by Right-Clicking on the existing guides to get a Pop-down menu.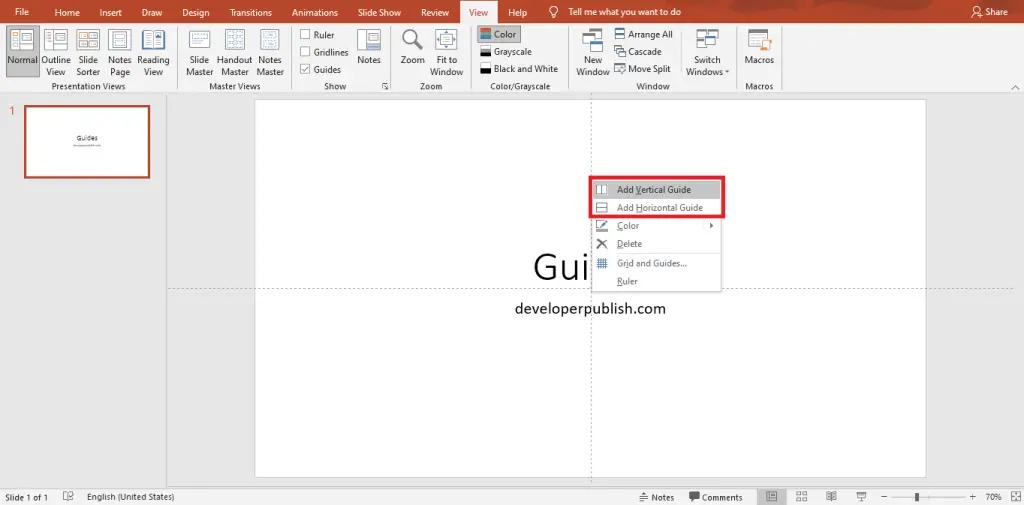 You need to select whether you want a horizontal Guide or Vertical Guide by clicking the Add Horizontal Guide or Add Vertical Guide.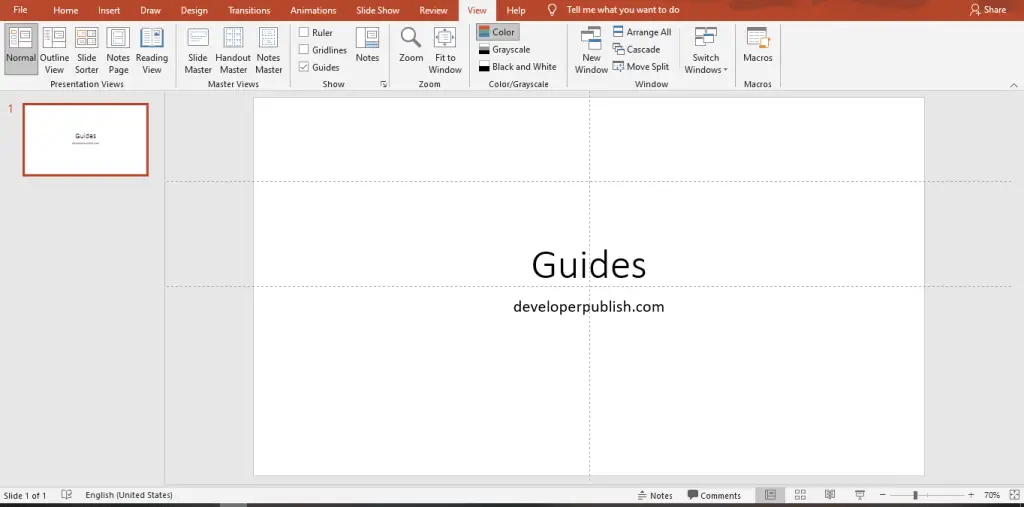 Now, you can able to see the added guides in Powerpoint.
You can also add a guide by clicking the Ctrl button and dragging the existing Guide where you want to add another one.
How to Delete a Guide in PowerPoint?
To delete a guide, all you have to do is,
Right-Click on the Guide which you want to delete.
You will get a pop-down menu.
Now, select the Delete option from that menu by clicking on that.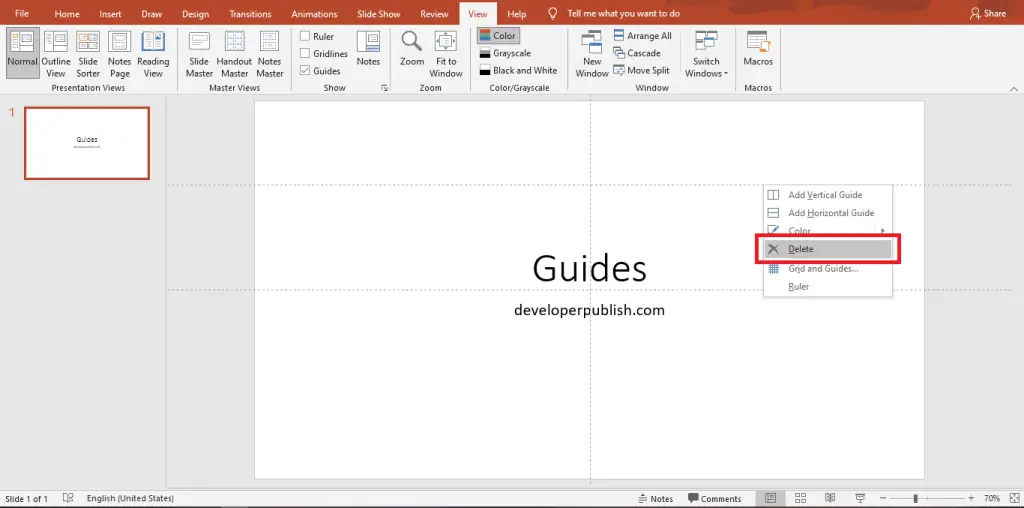 Now, you can see that the Guide has been deleted successfully.
How to Change the Color of the Guide?
To change the color of the Guides, all you need to do is,
Right-Click the guides which you want to change the color.
A pop-down menu will appear on your screen.
Click on the Color option from that menu and pick a desired color from the palette by clicking on it.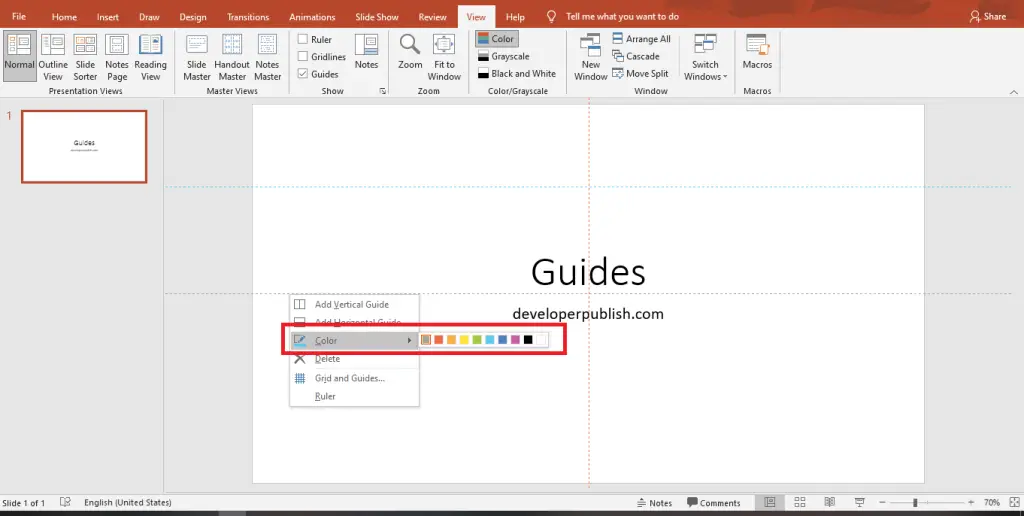 Now, you can differentiate each of the guides with a unique color.