Few days back , I got the opportunity to try the codeLobster PHP Edition , an simple and good IDE for the PHP Developers .
I am not a PHP Programmer by profession but did try few small projects some time back during which I used lot of free Softwares or IDE's like Eclipse etc .
Here comes another free IDE that includes standard PHP / HTML , CSS , JavaScript highlighting and supports Intellisense too .
The IDE is developed by Codelobster Software and is supported on the Windows 2000, Windows XP, Windows Vista, Windows 7 .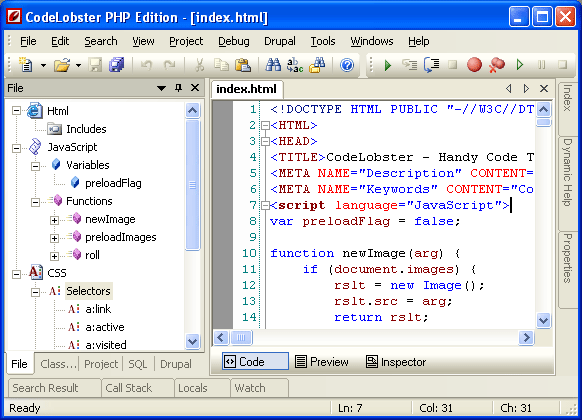 There are 2 versions of CodeLobster PHP Edition
The Free version includes
HTML editor
HTML code inspector
CSS editor
JavaScript editor
PHP editor
PHP debugger
and more…
The Professional Version includes the above features along with the special plugins to work with like
CakePHP plug-in
CodeIgniter plug-in
Drupal plug-in
Facebook plug-in
JQuery plug-in
Joomla plug-in
Smarty plug-in
Symfony plug-in
WordPress plug-in
Yii plug-in
SQL manager
First and formost think that i noticed when using the CodeLobster PHP Edition is the simple and faster UI which definitely sounds good for a programmer 🙂
Some of the features of the Free Portable PHP IDE includes
PHP, HTML, JavaScript, CSS code highlighting
HTML/CSS/avaScript/php autocomplete and Intellisense
and more…
Know the complete list of features of CodeLobster PHP Edition Version 3.9.4 here
You can download the free version of CodeLobster PHP Edition Version 3.9.4 here