In this post, you will learn about sync provider notifications in Windows 11 and how to disable or enable it in Windows 11.
What is Sync Provider Notifications & How to disable it in Windows 11?
When you are working in Windows 11, and there is a new feature of which you may need a tutorial to help you with. And that's where the role of Sync provider notifications come in. They help you in understanding the feature by providing quick, easy information and suggestions about the feature. By the end of this article, you will learn to enable and disable them in Windows 11 using the folder options in File Explorer.
Enable or Disable Sync Provider Notifications in File Explorer in Folder Options
Firstly, open your file explorer by pressing the Windows +E key simultaneously.
Click on the three dots, near the view menu.
Scroll down to the options and click on it.
The folder options opens,
Under the view sections, go to the advanced settings option and check or uncheck the 'Show Sync Provider Notifications to enable or disable the notifications.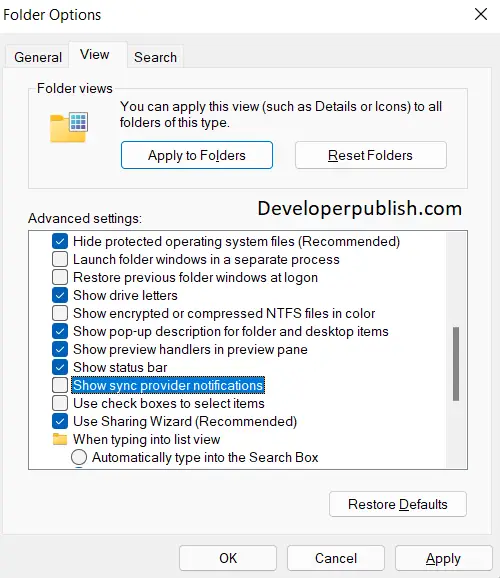 Then click apply and then Ok.