Ever wondered how you can show or hide comments in Microsoft Excel ?. This blog post exactly shows how you can do it in a step by step manner.
When we add few comments in an excel sheet, we tend to see a little red-colored triangle in the top right border of the cell indicating that there is a comment and when we mouse hover on the indicator, the comment box will be displayed showing the comment.
There are times when you might want to quickly view all the comments that are entered in the worksheet.
How to Show or Hide all comments in Microsoft Excel 2016 ?
Follow the below steps to show all the comments in excel.
1 – Navigate to the Review Tab in the Excel Ribbon and select the Toggle button "Show All Comments". This would display all the comments in the excel sheet.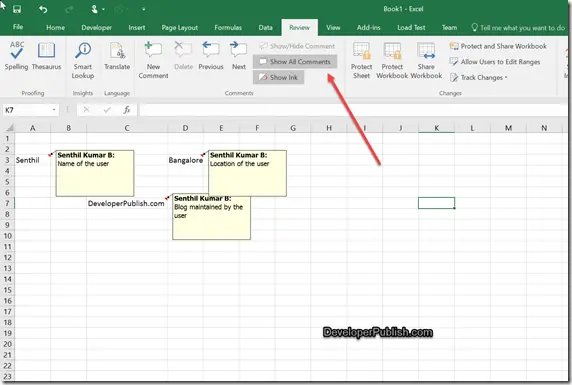 2 – To hide all the comments in the same excel worksheet click the same "Show All Comments" button again. Its a Toggle button and this will hide all the comments.