I was playing around with the Windows Insider Build of Windows Phone 10 on my new Microsoft Lumia 640 . When adding a my Microsoft account (specially when adding an email account) , I received the following error
"Unable to login to phone error something went wrong error code 0x801901f4"
How to fix the Unable to login to phone error something went wrong error code 0x801901f4 error in Windows Phone 10 when adding additional Microsoft account ?
To resolve this issue , you need to setup the two step authentication in your Microsoft account .Follow the below steps to set it up.
1. Login to your outlook.com account and navigate to "Account settings" screen.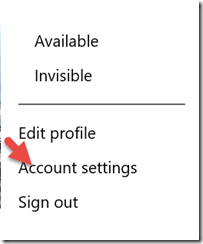 2. In the Microsoft account screen , select "Security & privacy" and then click "More security settings".
3. In the Security Settings screen , click the "Setup two-step verification" link under the Two-step verification section.

4. Follow the on screen steps to setup the two step authentication. First , setup the identity verification app and then click next.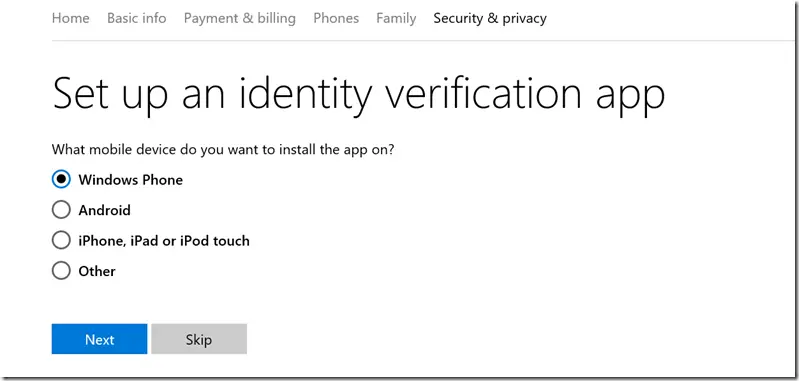 5. Install Microsoft's authenticator app on your Windows Phone 10 App from the following link
http://go.microsoft.com/fwlink/?LinkId=279710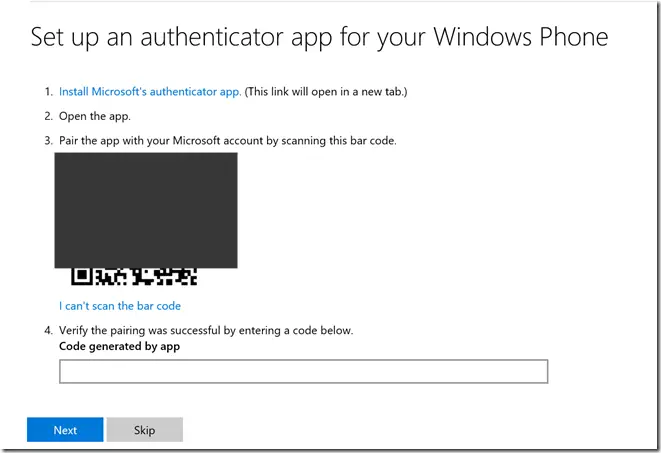 6. Open the App and scan the barcode shown in the two step verification screen in your Microsoft authenticator app on your Windows Phone.
7. This will display a code on your phone app , copy this code to the code section in the Two Step authentication page on your browser and click Next
8. Continue with the next steps shown on the screen in your outlook account settings screen and complete the two step verification step.
9. Now , go back to your Windows Phone 10 and add this outlook account , you will prompted to enter the code  from your Authenticator app . Once you enter the correct code , you are all set to use this outlook account in your Windows Phone 10.