With the announcement of the Microsoft Outlook.com, I created a new email address at outlook.com and have been using Outlook.com for last 1 week and the experience of using it is pretty good. The UI is simple, fast and more importantly easy to use.
You could import contacts from your Gmail, Facebook or Twitter account and infact do so many other things.
How about having shortcut keys to perform some regular tasks in Microsoft's outlook.com?
Below are some simple steps that allows you to enable Keyboard Shortcuts in Microsoft Outlook.com.
How to enable Keyboard Shortcuts in Microsoft's Outlook.com?
To enable Keyboard Shortcuts in Outlook.com, follow the below steps
1. Login to your outlook.com with the login credentials.
2. Click the settings icon from the top right corner before your Name and then click the more mail settings link.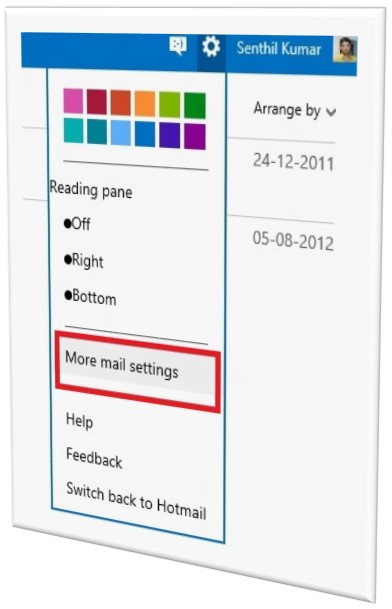 3. The Outlook.com provides the following option for the user to customize.
Advanced privacy settings
Language
Rules for sorting new messages
Flagging
Instant actions
From the Customizing Outlook group, click Keyboard shortcuts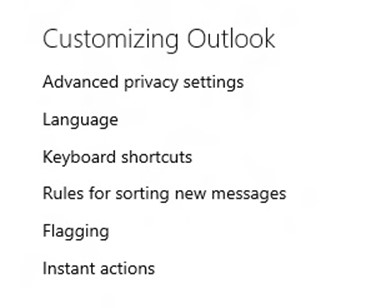 4. This will provide the following options.
Turn off keyboard shortcuts
Outlook and Outlook Web Access (OWA)
Yahoo! Mail
Gmail
By default, Outlook and Outlook Web Access (OWA) is enabled, if this is disabled, select it and click save. If you want to use the shortcut keys used in other mail services like Gmail or Yahoo Mail, you can select the option accordingly.
Now, you can the shortcuts on your outlook.com.
One of the shortcuts includes Ctrl + N to create a new Mail.
I will post the list of shortcuts in the upcoming blog posts.