Here's an interesting feature in Facebook that lets you download your Facebook data like photos , videos , wall posts etc and save them on the local computer .
How to Download Your Facebook Data ?
Just Login to the Facebook website with your login credentials and navigate to the top right corner and click "settings" icon and then click "Account settings" and click the "Download a copy of your Facebook data" link.

This will display a dialog as shown in the below screen shot . Click "Start My Archive" to start the your Facebook archive downloads .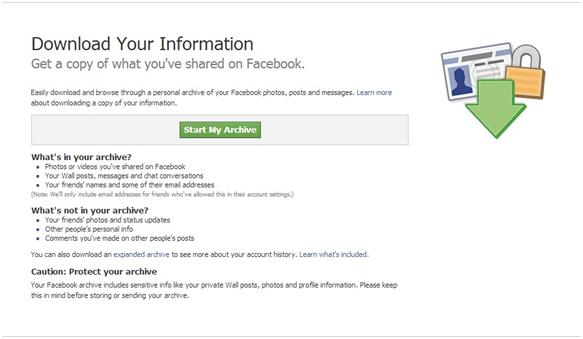 What does the Your Facebook Archive Contain ?
The Facebook Archive download contains the photos or videos that you have shared on Facebook , Message , wall posts and chat conversations , friends name and email address etc .
Give a try and start downloading your Facebook data on your PC 🙂