Are you one of the pubg game app users and missing the app after pubg game banned in India?. You have FAU-G, an Indian alternative to pubg, which is to be launched soon in the Google Play Store.
What is FAU-G for Android and iOS?
Fearless and United Guards (FAUG) is one of the upcoming online action game developed by a nCore Games company based out of Bangalore. One of the top Bollywood hero, Akshay Kumar, made the game announcement, which had then created a huge hype among the gamers community. FAUG game owner is vishal gondal.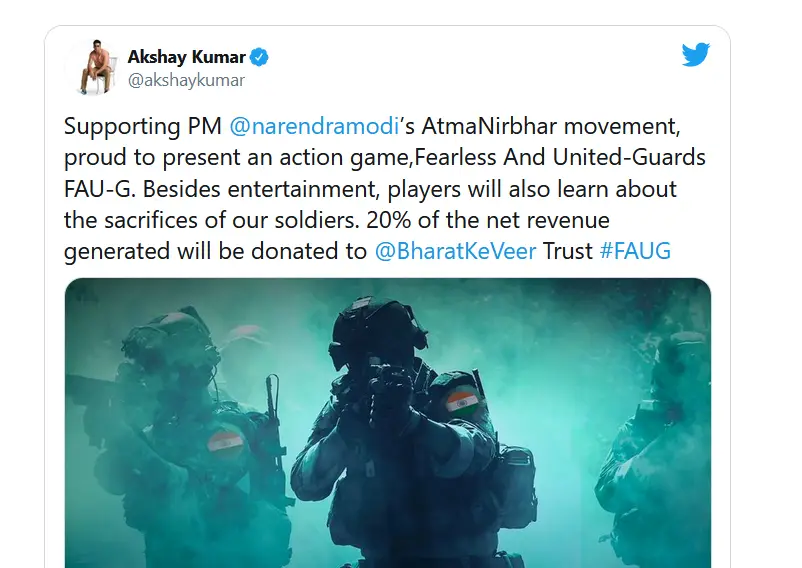 Last Year, the Government of India had announced the PUBG ban in India. Back then, PUBG was one of the popular games in India. So what alternatives were available for the users?. That's when the FAU-G announcement (Fearless and United Guards) for Android and iOS came from the company team.
It is expected that the FAUG game will be made available on both android and iOS platforms soon. The game's main intention is to support Prime Minister Narendra Modi's AtmaNirbhar Bharat Movement.
FAU-G Launch Date
When the initial announcement was made on the FAUg launch date, it was mentioned as October 2020, and then the launch date was pushed to December 2020. Now, nCore Games had officially announced the launch date of FAUg to be January 26 2021 (on Republic Day).
Reception
FAU-G is one of the games in the Google play store that had recorded the highest number of pre-registrations in less than 24 hours.
FAU-G Trailer
n-Core Games in their official Twitter handle had announced the launch date with a trailer that provides a good look at the game. Here's the embedded video of the FAU-G game.
How to Download FAU-G game for Android and iOS?
To download FAU-G on your android/ iOS device, follow the below steps after January 26, when the app is officially launched.
Visit the Android Play Store / Apple App Store and search for the FAU-G in the search box.
Ensure that you select the official app from "Studio nCore Pvt. Ltd." and then install it in order to get it downloaded and installed on your device.