One of the simplest way to sign out of Windows 10 machine is using the CTRL+ ALT + DELETE shortcut and select sign out from the options. This was a technique which was available in Windows 8.1 as well. If you need to sign out of Windows 10 machine using the Start menu , you can do that as well.
How to Sign out of Windows 10 PC from the Start menu ?
In the start menu of your Windows 10 PC , select the user name in the top left corner. This would display options like "Change account settings" , "lock" and "sign out" .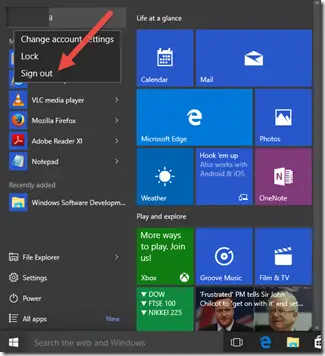 Select "Sign out" and you are done 🙂
Alternatively , you can right click on the start button and select "Shut down or sign out" dropdown and then select "Sign out".