In one of my previous posts , i talked about Adding the Application Bar in Visual Studio . In this blog post , I will explain about adding the Application Bar in Expression Blend .
Expression Blend provides more Designer support while Adding the Application Bar when compared to Visual Studio .
Here are the steps to add the Application Bar in the Expression Blend .
Go to Microsoft Expression Blend for Windows Phone
Click on the new Project and select the template windows phone application in the Expression Blend and provide the project name and click on Ok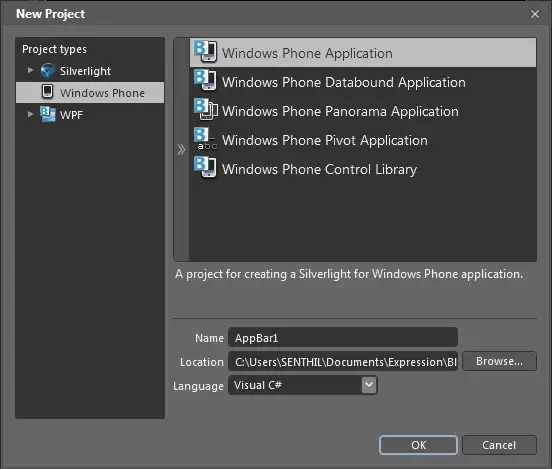 You might see that there is no precommented xaml code like the one that was generated while creating the project in Visual Studio 2010 .
Select the Phone ApplicationPage in the Objects and TimeLine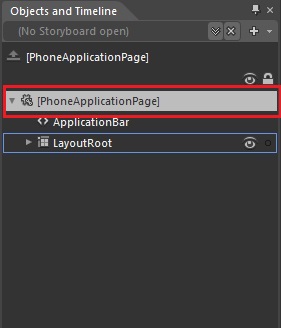 Check the Common Properties group from the Properties Tab . You can find it in the right side of the Window .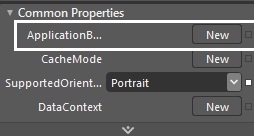 You should be able to find the ApplicationBar property as well as the New Button to create the ApplicationBar ( Missing in VS2010 ) . Click the new Button to add the ApplicationBar .
Now , the Common propeties groub will be expanded to show more properties for the ApplicationBar like Adding the Icon Buttons and MenuItems etc .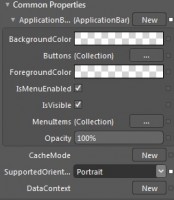 Click on the Button (…) on the Buttons Property to open the popup window to enter the Icon Buttons
Click on the Add another item Combo and select ApplicationBarIconButton and provide the IconUri and Text for the Icon Buttons . Note the Default icons that are available are displayed in the dropdown of the IconUri . You can find more of the icons from the SDK installation path : "C:\Program Files\Microsoft SDKs\Windows Phone\v7.0\Icons"
Similarly , You can add the MenuItem from the … Button next to the MenuItems(Collection) in the Common Properties . A popup window will show up when clicked on the Button  , enter the menu name etc … and Click Ok .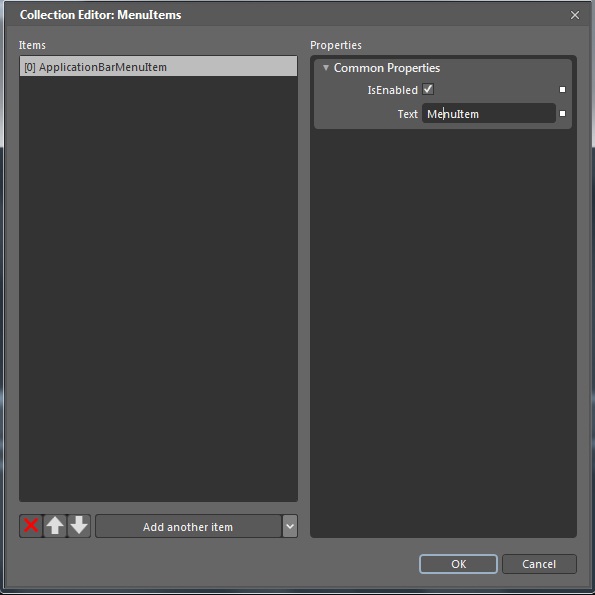 Now , run the project , you should be able to See the added ApplicationBar with the Menu item and the Icon Button .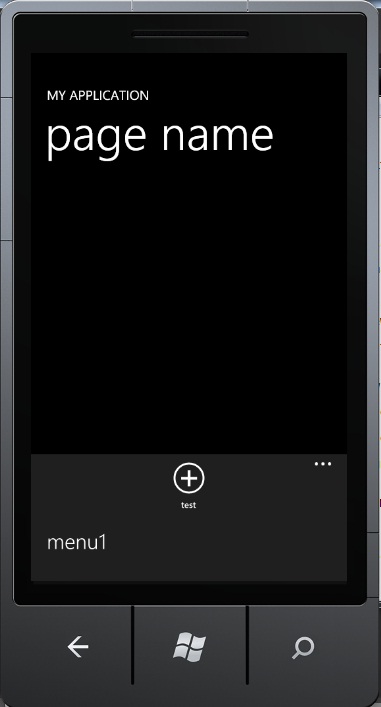 Thats it , the xaml code is generated automatically as we added menu items in the designer .
Easy wasn't it ??
References
Video : Using the ApplicationBar for Windows Phone